Get your guitarist from "Smoke on the Water" to "Stompin' at the Savoy!"
Help your guitarist succeed in Jazz Band. We all know that guitarists struggle with reading music. We can overcome this, but, honestly, it's not the first thing we need from our guitarist. What we need, in a big band, is for them to be able to read chord charts, use the correct style of voicings, and play with a swing jazz or basic Latin rhythm.  This is the first skill we should cultivate, then use it to build the rest. The rest being, reading rhythms, reading single note lines, improvisation, and other styles and types of chord voicings. All of which are covered in subsequent volumes of the Crash Course in Jazz Guitar Method.
A Crash Course In Jazz Rhythm Guitar was developed specifically to address this problem. This volume will take a guitarist all the way from not knowing the names of the notes on their guitar to being able to read the 3-page chart below.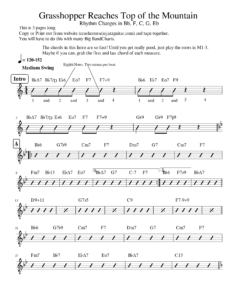 The book contains tricks and tips that real jazz guitarists use when reading these charts. How we actually read them, what to include, what to exclude. How to play with the correct feel. The method is based on 3-note voicings in the style of Freddie Green, the legendary guitarist for the Count Basie Big Band.  I know most band directors would be happy to have Freddie Green chomping away on the chords back there. Now, they can focus on those saxes!
Many books teach jazz chords, and even 3-note voicings, but that's not enough for our students. They also need to know how read the charts. Many of them don't know what a 1st or 2nd ending is, what a Coda is, or even a repeat sign. This book covers all of that. I created this book with my students while going over the charts they were bringing from jazz band. So, everything in here is what the student will see in a real live band.
I can safely say this is easily the best method book for your budding Jazz guitarists …
As a high school and college educator, I can safely say this is easily the best method book for your budding Jazz guitarists on the market. The text is written in an easy-to-follow format that assists the student in a methodical progression of understanding his/her role in a Jazz ensemble. In addition, the amount of material and perspectives Jon offers are a huge value at this price point. I highly recommend this for any student (or teacher) looking to improve their skill and deepen their knowledge of Jazz Rhythm Guitar.
The student will learn the following from A Crash Course In Jazz Rhythm Guitar:
All notes on string 6 and 5 and how to find them easily. Including sharps and flats. (The foundation of so, so much on guitar. Very Important.)
The easy formula to learn all the notes on the guitar.
3-note chords. The backbone of jazz rhythm guitar.
How to read chords on a lead sheet.
Swing Jazz Rhythm and Basic Latin Rhythm (Bossa)
How to simplify complex chords and still play something that is correct and sounds great!
All the symbols that you need to know to read that Big Band chord chart. (Rhythms are addressed in volume 2.)
More…..
By the end of the book, the student will:
Have a solid command of 3-note chords, able to accompany in many styles.
Have formed a foundation for building a thorough understanding of jazz.
Harmony will begin to make sense. (Told to me by an older student who has been playing for years.)
Have developed good time and a good rhythmic pulse. (The Playalongs really, really help with this.)
Now have the ability to go on and learn Rhythms, Improvisation, High Chords, 3/7 comping, Sightreading, Theory and more. All in future volumes on this Crash Course Series.
Support material is also available on the free companion website. The most important of which are playalongs, so the student can practice playing the new material in time, with a live band.
Here's a sample playalong for a Jazz Blues.
Give your student a solid foundation in Jazz Guitar. Let them experience some success, then build upon that success. Crash Course In Jazz Rhythm Guitar is available on Amazon.