If you follow the step by step program you will be able to play the tune at the end, Grasshopper Reaches Top of the Mountain.
The Sample below is an excerpt. Much, much more is covered. You can check out the Table of Contents to get more idea of what is covered. The goal of this book is to get you playing jazz rhythm guitar quickly, correctly, with voicings that are legitimate and sound great!
Here is the Sample PDF for Crash Course in Jazz Rhythm Guitar.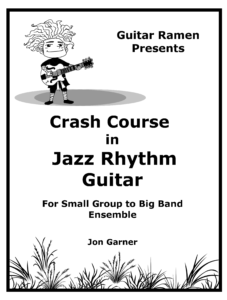 Crash Course in Jazz Rhythm Guitar is For:
Students of any age or background.  (Note Reading Not Required.)
Guitar Teachers that want to help their students pass the audition and get in the big band at school.
Guitarists coming over from other styles.
Singer-songwriters that want a really cool sound to add to their mix.
Instrumentalists looking to accompany other players or singers. It's the perfect mix of bass note and chord quality. Punchy, full, yet nimble.
Swing jazzers, Gypsy jazzers, Western-swingers, post-modern jukebox lovers.
Fans of Count Basie, Benny Goodman, Freddie Greene, Django Reinhardt, or Bob Wils.
You Will Learn, In A Simple Step-By-Step Process:
All notes on string 6 and 5 and how to find them easily. Including sharps and flats.
The easy formula to learn all the notes on the guitar.
3-note chords. The backbone of jazz rhythm guitar.
How to read chords on a lead sheet.
How to simplify complex chords and still play something that is correct and sounds great!
All the symbols that you need to know to read that Big Band chord chart. (Rhythms are addressed in volume 2.)
More…..
By The End Of the Book, You Will:
Have a solid command of 3-note chords, able to accompany in many styles.
Have formed a foundation for building a thorough understanding of jazz.
Harmony will begin to make sense. (Told to me by an older student who has been playing for years.)
Have developed good time and a good rhythmic pulse. (The Playalongs really, really help with this.)
Now have the ability to go on and learn Rhythms, Improvisation, High Chords, 3/7 comping, Sightreading, Theory and more. All in future volumes on this Crash Course Series.
Other benefits that people keep bringing up, that I would have never imagined. (Thank you guys and gals!)
Simplify.
Be Efficient.
and
Make It Easy.