You've Made It!
The Home for the Crash Course In Jazz Guitar Series.
If you've already purchased the book, first of all, Thank You!. If you're looking for all the playalongs and supplemental materials, please see the menu for the link to Audio/Video for the Crash Course in Jazz Rhythm Guitar Vol. 1.
If you don't have the book yet and are just looking to find out more, welcome and read on.
"I wish I had this when I was first starting off! These are really good exercises! Nice, simple explanations. This is a wonderful tool for students trying to dip their feet into the jazz idiom. Very unique in that it gets rid of the excess blubber that usually plagues other jazz guitar books. This is a jazz essentialist book!"
– Nate Burns, NYC based touring guitarist.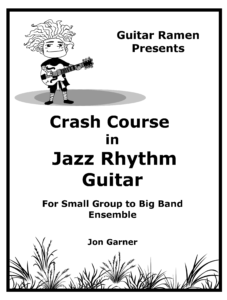 I created this book to get my students playing jazz guitar almost immediately. Beginning with the essential skill of Rhythm Guitar, playing chords, in the classic swing style. I had many people test the book out and give me feedback on it. I learned that it did much more than I had originally intended. With a little thought, I realized this method not only taught how to play the fun, essential, and versatile 3-note chords, it also taught the logic of the guitar neck and created the foundation upon which all the rest of the jazz skills can be built.
Start Really Playing Jazz Guitar Today!   Want a Sample?
Simplicity. Ease. Grace.
Finally, a practical method that is neither too simple nor too complex. You won't be overwhelmed with a thousand chords, nor bored with not enough actual playing or examples. A Crash Course in Jazz Rhythm Guitar leads you step-by-step to being able to confidently play jazz rhythm guitar. No guesswork about how or what to practice, this course is student tested and audition-won approved.
Be Versatile.
Whether you're playing in a duo or in a big band, you'll have the foundation and confidence to hang with any group. Future books in the Crash Course Series cover advanced harmonies, drop-2 voicings, improvisation, rhythms, sightreading, chord-melody and more.
Demystify the Fretboard
A Crash Course in Jazz Rhythm Guitar is also a practical approach to learning the whole fretboard. It gives you a solid foundation which can be used in any genre of music.
All done the Gman Way.
The Gman way, the Crash Course way, is to learn the essential and use the essential wisely. It is to simplify the complex, to make the complex simple. Simplicity brings speed, ease and grace. Even the most complex music is never more than layered simplicity.
More Kind Words for Crash Course in Jazz Rhythm Guitar.
"I especially like the practical advice about simplifying in complicated or difficult song sections. Getting permission to 'cheat' and knowing it will work fine is a big deal ….the book becomes very useful as a practical framework of the fretboard in the end. I found the book entertaining, practical and look forward to the next!"

– Jeff Bertino, Musician, Poway Folk Circle Founder, and gratefully retired computer engineer.
"I think this is an excellent book, clearly a reflection of your knowledge and deep understanding, not only as a player, but as a teacher, too. Great job!"

– Jonathan Harnum, Author of The Practice of Practice, Practice Like This, and Basic Music Theory (Sol Ut Press.)
I picked up so many practical and useful techniques from you. You truly are an amazing teacher. You put our lessons and your teaching style in book form. It's great!

– Kevin Schwartz, San Diego based touring guitarist.
Free Membership Site to go along with book containing
playalongs, examples, and additional tools.